Home > malaysia gp 2012 > Lewis Hamilton beats Jenson Button in Malaysia GP Qualification
Posted on Saturday, March 24, 2012 by Deutsch football team euro 2012 wallpaper for android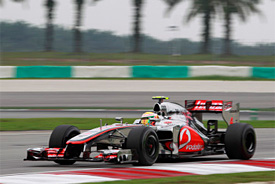 Lewis Hamilton has secured the second race of the season for the second time the pole position. In qualifying for the Malaysian Grand Prix, the McLaren driver ran into 1:36,219 minutes, the fastest time. In addition to Hamilton in the first Row of the grid at the Sepang International Circuit is - as in Australia - team-mate Jenson Button (1:36,368).
Michael Schumacher drove to a strong third place and Sebastian Vettel who had 15 pole position in 2011 season, sixth.
Fastest Red Bull driver Mark Webber was in fourth position (+0.242). Kimi Raikkonen took the 5th place but he will start to race on 10th so five-place grid penalty. Romain Grosjean finished seventh in the second Lotus (+0.439) in front of Nico Rosberg in the Mercedes (+0.445), Fernando Alonso Ferrari (+1.347) and Sergio Perez (Sauber, +1.479).
Pos  Driver                Team                 Time         Gap   
 1.  Lewis Hamilton        McLaren-Mercedes     1m36.219s             
 2.  Jenson Button         McLaren-Mercedes     1m36.368s   + 0.149   
 3.  Michael Schumacher    Mercedes             1m36.391s   + 0.172   
 4.  Mark Webber           Red Bull-Renault     1m36.461s   + 0.242   
 5.  Kimi Raikkonen        Lotus-Renault        1m36.461s   + 0.242   
 6.  Sebastian Vettel      Red Bull-Renault     1m36.634s   + 0.415   
 7.  Romain Grosjean       Lotus-Renault        1m36.658s   + 0.439   
 8.  Nico Rosberg          Mercedes             1m36.664s   + 0.445   
 9.  Fernando Alonso       Ferrari              1m37.566s   + 1.347   
 10.  Sergio Perez          Sauber-Ferrari      1m37.698s   + 1.479   
Q2 cut-off time: 1m37.477s                                   Gap **
11.  Pastor Maldonado      Williams-Renault     1m37.589s   + 0.874
12.  Felipe Massa          Ferrari              1m37.731s   + 1.016
13.  Bruno Senna           Williams-Renault     1m37.841s   + 1.126
14.  Paul di Resta         Force India-Mercedes 1m37.877s   + 1.162
15.  Daniel Ricciardo      Toro Rosso-Ferrari   1m37.883s   + 1.168
16.  Nico Hulkenberg       Force India-Mercedes 1m37.890s   + 1.175
17.  Kamui Kobayashi       Sauber-Ferrari       1m38.069s   + 1.354
Q1 cut-off time: 1m38.437s                                   Gap *
18.  Jean-Eric Vergne      Toro Rosso-Ferrari   1m39.077s   + 1.905
19.  Heikki Kovalainen     Caterham-Renault     1m39.306s   + 2.134
20.  Vitaly Petrov         Caterham-Renault     1m39.567s   + 2.395
21.  Timo Glock            Marussia-Cosworth    1m40.903s   + 3.731
22.  Charles Pic           Marussia-Cosworth    1m41.250s   + 4.078
23.  Pedro de la Rosa      HRT-Cosworth         1m42.914s   + 5.742
24.  Narain Karthikeyan    HRT-Cosworth         1m43.655s   + 6.483

107% time: 1m43.974s
* Gap to quickest in Q1
** Gap to quickest in Q2
Category Article
malaysia gp 2012